What can you do with Virtual Utility®?
Virtual Utility® gives facility managers, executives, and sustainability leaders peace of mind by solving today's most pressing energy challenges.

Real-time energy management services
The Grid Response Optimization of Virtual Energy (Grove) monitors and optimizes your Virtual Utility in real time, analyzing past performance, upcoming weather, and energy markets to identify the best times to rely on on-site generation. This helps you take advantage of programs like demand response and decreases your load during peak times.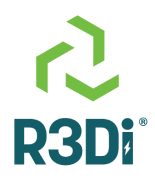 A turnkey solution for uninterruptible and conditioned power
Our patented R3Di® system consists of a natural gas engine, a battery energy storage system, dual conversion inverters, system controls, HVAC, fire suppression, and other safety components, switchgear, and transformers. This solves both intermittent power quality issues and long-term losses while giving facilities leaders greater flexibility and clean, conditioned power. R3Di® can integrate with on-site power infrastructure, including renewable energy sources, and EV charging stations.
Make Things Work®
Industries we serve
Virtual Utility® is ideal for mid-sized to larger organizations that use at least one megawatt of power and need continuous, uninterruptible power to maintain operations. Here are just a few of the industries we serve.
Why e2Companies?
We believe a powerful future starts with innovative energy solutions. As pioneers in the energy industry, we have the engineering expertise and established relationships with leading suppliers and distributors to deliver these solutions while empowering your facility. Learn more about what sets us apart.
24x7x365

7,500

1,200MW

$1B

113,880,000
24x7x365
Successfully designed, staffed, and implemented a state-of-the-art 24x7x365 Network Operations Center (NOC) to manage disparate assets including solar, thermal, wind, battery, and distributed engines.
7,500
Managed all aspects of market participation for available programs (capacity, energy, and peak load management) across deregulated markets for over 7,500 facilities, generating over $2B in savings and direct payments to our partners through our programs.
1,200MW
Completed 1,200 MW and 4,000 successful regulatory reviews for distributed generation and emissions aftertreatment projects.
$1B
Managed over $1B in power and gas procurement and risk while analyzing over 25,000 utility bills a month.
113,880,000
Monitoring Hours
Over 113 million monitoring hours to date, including field monitoring services and remote-cloud monitoring of assets with our Network Operations Center (Grove365).
News & Happenings
Discover industry news from top professionals and what's new at e2Companies
Find us at Booth 743 at DistribuTECH!
Orlando, FL - Feb. 26-29, 2024